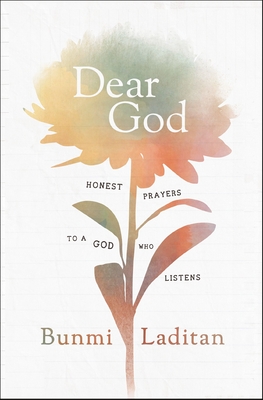 Dear God: Honest Prayers to a God Who Listens
Publication Date:
January 26th, 2021
Usually Ships in 1 to 5 Days
Description
Are you looking to strengthen your relationship with God? Do you find yourself untangling the threads of what it is you really believe? Are you longing for a deeper connection to your spiritual side? Bunmi Laditan has been in your shoes.
In the midst of her darkest days, Bunmi began writing down her deepest fears, hopes, dreams, and frustrations with God in the form of letters. The result of Bunmi's soul-searching journey is Dear God, a collection of funny, heartbreaking, and deeply insightful prayers that put words to the emotions we all feel as we grapple with this broken world and search for divine love.
With the same gutsy and poetic honesty that has already charmed readers around the world, Bunmi now shares these moving, intimate conversations with God--prayers and poems that chart her story of reconnecting with the God she loved, lost, and found once again.
Dear God catalogs what we're all thinking as we work out our personal relationships with God. These candid field notes will stir your heart and make you laugh out loud with Bunmi's self-awareness and profound insight into the spiritual journeys we're all doing our best to navigate.
Join Bunmi as she travels through those all-too-familiar emotions--doubt, anger, joy, desperation, love, loneliness, and gratefulness--that humanity has always wrestled with. Wittily fresh and stunningly relatable, she exquisitely shares the painfully honest questions she's asked along the way, including:
God, what is holiness?
God, how can it be worth it to love life when it could slip away at any moment?
God, what do I do when forgiveness feels impossible?
God, I know you love me, but do you like me?
This poignant collection of prayers is a timely reminder that even when we wander, God never leaves our side.