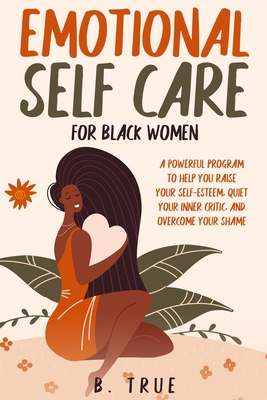 EMOTIONAL Self Care For Black WOMEN: A Powerful Program to Help You Raise Your Self-Esteem, Quiet Your Inner Critic, and Overcome Your Shame
This product is not returnable.
Publication Date:
June 30th, 2021
Publisher:
Independently Published
Usually Ships in 1 to 5 Days
Description
★ LEARN TO SAY YES TO YOURSELF AND YOUR NEEDS ★
When people are new to self-care, they tend to assume that it mostly means personal grooming, long hours in a bathroom, manicures and yoga sessions... And they're not wrong Self-care DOES include those things.
But when you think well, self-care runs much deeper than just a bubble bath - it includes emotional self-care as well. Since life has become increasingly harder for everyone these days, here, in this book, I'm going to talk exactly about it.
In this wonderful guide you'll learn:
The Importance of Taking Care of Yourself
PART ONE: THE BODY
Tips For Taking Care of Yourself in The Morning and In the Evening
Self-Image
10 Exams Every Woman Should Take
The Importance of Sleeping Well
A Contribution from Nature
Beauty Sleep
Physical Activity
The Importance of Eating Well
Tips For Your Hair
Skin Care Tips
SECOND PART: THE MIND
Emotional Malaise
Build Serenity
Love Yourself
Forgive Yourself
Establishing Boundaries
Emotions
Claim Your Space
Getting Rid of Toxic People
And Much, Much More
HOW TO BE HAPPY EVERY DAY: 18 EXERCISES AND QUESTIONS TO ACHIEVE HAPPINESS
I DON'T KNOW WHAT TO DO IN LIFE: 26 WAYS AND EXERCISES TO FIGURE IT OUT
HOW TO BE YOURSELF: 20 KEY EXERCISES AND QUESTIONS TO UNDERSTAND IT
SELF-ESTEEM: WHAT IT IS AND HOW TO INCREASE IT WITH 26 EFFECTIVE EXERCISES AND QUESTIONS
In this revolutionary book you'll find ACTIVITIES THAT HELP YOU CONNECT, PROCESS, AND REFLECT ON A FULL RANGE OF EMOTIONS
Buy now and be a happy today