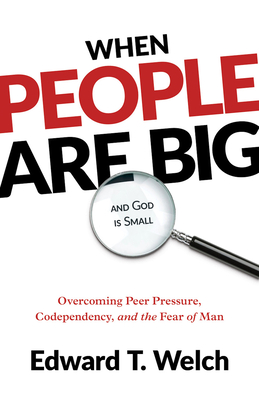 When People Are Big and God Is Small: Overcoming Peer Pressure, Codependency, and the Fear of Man
Publication Date:
April 19th, 2023
Publisher:
P & R Publishing
Usually Ships in 1 to 5 Days
Description
Five college students pitch a tent by their car one dark night, not realizing they've set up camp by a military runway. They awake from a deep sleep to the shaking of the earth and a roar like mountains falling--the sound of a military transport plane taking off right over their heads. Can you imagine the visceral terror of that moment? For author and biblical counselor Edward Welch, it was a glimpse of what the Israelites experienced in God's presence at Mount Sinai. Our God is a consuming fire. His holiness and relentless love put our sin, our weakness, and our fears in perspective. If we can learn the fear of the Lord--a fear that in Christ is filled with gratitude, love, and devotion--we can break free of the fear of other people that so easily entangles us. We can experience joy in our Christian lives as we need other people less and love them more. This groundbreaking work has helped countless numbers of people to confront their fear of man and live in freedom. The new edition features clarifying additions, new material, and revisions throughout.