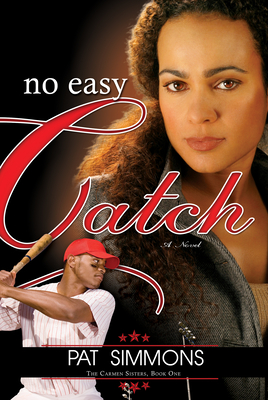 No Easy Catch (Carmen Sisters #1)
Publication Date:
March 11th, 2014
Publisher:
Whitaker House
Description
Shae Carmen hasn't lost her faith in God, only the men she's come across who profess to follow Him. Heartbroken and humiliated after discovering that her boyfriend was not only married but also on the verge of reconciling with his estranged wife, she flees her job in Nebraska for St. Louis, Missouri, and starts over with a fresh slate as a weekend TV news anchor/reporter.
St. Louis Cardinals outfielder Rahn Maxwell had been coasting along in life until an attempted carjacking awakened him to the reality of his feeble faith. When a local television station lands an exclusive interview, Rahn shares his testimony and commits to getting right with God. Meeting a lovely news anchor named Shae, a committed Christian, further compels his quest to follow Christ--and to win Shae's heart.
Just when Shae lets her guards down, another scandal rocks her world. This time, the stakes are higher, and she and Rahn aren't immune to the aftershocks. For a second time, Shae's heart is on the line, along with her professional credibility. Will she strike out at love again? Or will she hit a home run and give God the glory?
About the Author
Pat Simmons is a self-proclaimed genealogy sleuth. She is passionate about researching her ancestors, whom she then casts in starring roles in her novels. She hopes her off-beat method will track down distant relatives who happen to pick up her books. She has been a genealogy enthusiast since the death of her great-grandmother, at ninety-seven years young, in 1988. Pat holds a B.S. in mass communications from Emerson College in Boston, Massachusetts. She has worked in various media positions in radio, television, and print for more than twenty years. Currently, she oversees the media publicity for the annual RT Booklovers Conventions. She is the author of nine single titles and several eBook novellas. Her award-winning books include Talk to Me, ranked #14 of Top Books in 2008 That Changed Lives by Black Pearls Magazine. She is a two-time recipient of the Romance Slam Jam Emma Rodgers Award for Best Inspirational Romance for Still Guilty (2010) and Crowning Glory (2011). Her best-selling novels include Guilty of Love and the Jamieson Legacy series: Guilty by Association, The Guilt Trip, and Free from Guilt.The Acquittal (a Guilty Parties novel) was her 2013 release. Pat has converted her sofa-strapped, sports-fanatical husband into an amateur travel agent, untrained bodyguard, and GPS-guided chauffeur. They have a son and a daughter. Pat's interviews include numerous appearances on radio, television, blogtalk radio, blogs, and feature articles. Readers may learn more at www.patsimmons.net.