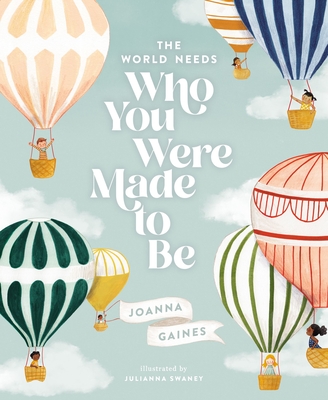 The World Needs Who You Were Made to Be
Publication Date:
November 10th, 2020
Description
In the #1?New York Times?bestseller, ?The World Needs Who You Were Made to Be, Joanna Gaines celebrates how creativity and acceptance can come together to make for a bright and beautiful adventure. The book, illustrated by Julianna Swaney, follows a group of children as they each build their very own hot-air balloons. As the kids work together, leaning into their own skills and processes, we discover that the same is true for life--it's more beautiful and vibrant when our differences are celebrated.
Together with Joanna, you and your kids will take a journey of growth and imagination as you learn in full color to
celebrate every child's one-of-a-kind strengths and differences;
embrace teamwork;
share our talents and abilities to make everything more beautiful; and
lend a helping hand and do our best to show kindness and take care of one another.
The World Needs Who You Were Made to Be?is a vibrant picture book perfect for
children ages 4-8;
grandparents, parents, teachers, and librarians;
classroom story times and discussions about diversity and being a good human being;
households that enjoy watching Chip and Joanna on Magnolia Network and HGTV's?Fixer Upper; and
holiday or Christmas gift-giving, birthdays, graduations, or other celebrations.
With plenty of pink, a bounty of blue, orange and green and yellow too, this vibrant hot-air balloon adventure celebrates every child and teaches kids that we are in this together. "You're one of a kind, and it's so clear to see: The world needs who you were made to be."