Discounted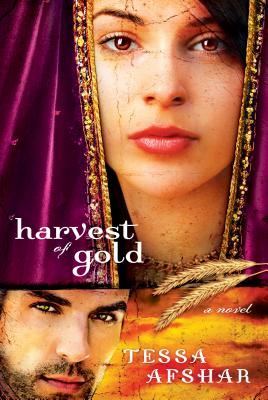 Harvest of Gold: (Book 2)
Previous price:

$15.99
Current price:

$14.99
Publication Date:
July 1st, 2013
Usually Ships in 1 to 5 Days
Description
A hidden message, treachery, opposition, and a God-given success will lead to an unlikely bounty.
In Harvest of Gold (Book 2), the scribe Sarah married Darius, and at times she feels as if she has married the Persian aristocracy, too. There is another point she did not count on in her marriage—Sarah has grown to love her husband. Sarah has wealth, property, honor, and power, but her husband's love still seems unattainable.
Although his mother was an Israelite, Darius remains skeptical that his Jewish wife is the right choice for him, particularly when she conspires with her cousin Nehemiah to rebuild the walls of Jerusalem. Ordered to assist in the effort, the couple begins a journey to the homeland of his mother's people. Will the road filled with danger, conflict, and surprising memories, help Darius to see the hand of God at work in his life—and even in his marriage?
Praise for Harvest of Gold: (Book 2)
 "Afshar has created a treasure of a book. Brilliant characterization, adventure, intrigue, and humor coupled with deep emotional impact garner a solid five stars."
—Kris Wilson, CBA Retailers+Resources, July 13, 2013 
"I believe this is the first book I have read which takes place during the time of Nehemiah. Having participated in a year long small group study covering this book of the Bible I was particularly interested in Harvest of Gold. And of course I was excited to read this book because Afshar has become my favorite biblical fiction novelist since the release of Pearl in the Sand. Combine this with a healthy dose of cover love and I couldn't wait to get my hands on this book!
 Afshar's strong background in religious and historic studies shines through in her fiction. Her accurate use of historical detail and her gift in writing descriptions make her fiction come alive. Harvest of Gold is a beautiful exploration of the full meaning of marriage and its value as an example of God's love for us. Also, the topic of spiritual warfare is explored in depth through the building of the wall and in the individual character's lives.
 I believe this book would provide valuable bibliotherapy for those dealing with a miscarriage or even for those dealing with marriage issues. I can't wait for Afshar's next release!"
 —Julia Reffner, review posted on Net Galley, August 12, 2013
"I like reading historical fiction novels, but rarely do I read one set almost 2500 years ago. Harvest of Gold takes place in Persia and in Jerusalem during the rebuilding of its walls in 445 BC. Having studied Bible history, I am familiar with Nehemiah's story and was intrigued as to how the author would involve this Biblical character. Clearly, this is a well-researched story and pretty accurate regarding this time in history.
The story is essentially about Sarah, an intelligent Jewish scribe, recently married to Darius, a Persian aristocrat, and their journey as their marriage unravels. Set during the restoration of Jerusalem during Nehemiah's time, the author uses the timeless principles in the book of Nehemiah as both Sarah and Darius struggle with issues of duty and faith.
I was unaware that this book is the sequel to Harvest of Rubies, and only realized this as references were made to events from the first book that I was clueless about. I wished the author would have summarized some things that had taken place in the first book. Notwithstanding this, I still enjoyed this novel. It was refreshing because of the setting. The plot also included an attempt to murder King Artaxerxes. I liked the author's notes at the end of the novel that further explained historical details.
Sarah is a strong female character and Darius is handsome and physically strong. There is passion between the two of them, although sometimes their behaviour confused me. One minute they are in each other's arms and the next they are pulling away and there is distance. They end up being apart for most of the novel. Sometimes it felt like I was reading a contemporary romance. Also, their dialogue often used expressions that were definitely not used in the middle east before the common era, such as the word "sweetheart" which originated in the 13thcentury and is an English expression. Because of this, there were times when I wasn't totally immersed or transported to the time and place of the story.
Overall, this was a good story. I have the first book Harvest of Rubies on my Kindle, and will probably read it in the future when I'm in the mood for another different historical setting. It had so many rave reviews on Amazon. If you like Biblical historical fiction and romance, I suggest giving this one a try, but perhaps after reading the first book. It's clean with plenty of action."
-Laura Fabiana, reviewed on Net Galley, Augusut 23, 2013
After having a chance to settle into her role as the wife of a Persian nobleman, Sarah is again called back to the court she once served in as a scribe. Intending to go with her husband for just a short trip, they are soon caught up in a plot to uncover who is trying to overthrow the king. Sent on a double mission for Darius to uncover who is behind the plot and for Sarah to serve her cousin, Nehemiah, as a scribe, the couple find that their marriage is very much like the walls of Jerusalem. Built on distrust and coming from different religious backgrounds, they must learn to work together as more than just a partnership. Can Darius put behind the disappointments of court life in order to fully give his heart? Can Sarah learn to let her God work on her husband and herself?
I enjoyed the first book in this series and very much appreciated that this one had the same flavor as the first. The details are rich and it is quite easy to become attached to the characters, since Tessa Afshar makes the Old Testament come alive. Excellent!
- Amanda Holmes, reviewed on Net Galley, September 10, 2013
After reading Harvest of Rubies I just had to continue on with the story of Sarah and Darius in Harvest of Gold. Sarah & Darius seem to have it all, money & power, but not the love of her husband. This story is about their marriage, how they both have issues and need to overcome them to become the man and woman God would want them to be to each other. I enjoyed this novel very much and look forward to anything put out by Tessa Afshar. Rated:  5 out of 5 stars.
Dawn Cronk, reviewed on Net Galley, November 4, 2013