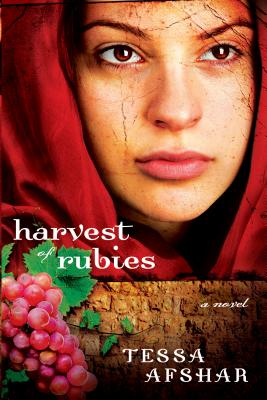 Harvest of Rubies: (Book 1)
Publication Date:
May 1st, 2012
Usually Ships in 1 to 5 Days
Description
The prophet Nehemiah's cousin can speak numerous languages, keep complex accounts, write on rolls of parchment and tablets of clay, and solve great mysteries. There is only one problem: she's a woman in a man's court.
In her early childhood years, Sarah experienced the death of her mother and her father's subsequent emotional distance, and she came to two conclusions: God does not care about me, and my accomplishments are the measure of my worth.
Catapulted into the center of the Persian court, Sarah is working too many hours, rubbing elbows with royalty, and solving intrigues for the Queen. Ironically, it isn't failure—but success—that causes Sarah to lose her only source of external validation.
Sarah soon learns that she has something of worth to offer beyond her ability with languages and sums; her very being proves to be a blessing to others, particularly the aristocrat Darius, whom she is given to in marriage.
Sarah and Darius' story continues in Harvest of Gold. Darius may be able to learn to love his wife, but can he ever learn to trust Sarah and her Lord?
Praise for Harvest of Rubies: (Book 1)
"Sarah is a Jew in ancient Persia, cousin of Nehemiah, and the daughter of the scribe Simeon, whose attention she wins only when she proves to possess literary abilities of her own. In this latest by Afshar (Pearl in the Sand), the Bible's ancient Near Eastern context is the setting for an engaging story of pluck, friendship, and faith. Sarah becomes a professional scribe and wins the affections of the queen only to find herself bound to marry a man she doesn't know and forced to give up the job that she loves. When she botches her wedding, and is abandoned to a rural estate, it would seem that all is lost. But Sarah finds wisdom and strength in the texts and traditions of her people, and knits together an unconventional community of support. Afshar's story challenges misconceptions about harem life and the roles of ancient women while introducing readers to a lovable heroine whose good heart wins out over bumbling ways to prove a boon to others, too. Agent: Wendy Lawton, Books and Such (May)" --Publishers Weekly, 5/14/12
"Almost two years ago, I reviewed a book titled Pearl in the Sand by Tessa Afshar. I absolutely loved the story, and next week her brand new book "Harvest of Rubies" will be released. I was thrilled to have a sneak peak at this one!
Imagine a young woman struggling to make a way in a man's world. Education for women was almost unheard of in the ancient Persian society, yet Sarah found herself working as the chief scribe to the Queen. She did such an outstanding job that she was rewarded by the Queen. Only problem is, her reward was absolutely the last thing that Sarah wanted.
What impacted me the most in this book was Sarah's journey of faith. She started out feeling unworthy, unloved and forgotten by God and her family. As everything she cherished is torn from her life, she had to reach out to God as her anchor in the storm.
Harvest of Rubies is a tender, richly inspirational, beautifully passionate, and often humorous story that I highly recommend!"  Reviewed by Janet Hovis, Net Galley 4/27/2012
"Iranian-born, Tessa Afshar weaves a lovely tapestry in this novel. It is rich in detail about the customs, clothing and culture of this time period. Her characters are fully-fleshed with both strengths and flaws. The storyline is quick-paced and believable and leaves readers thankful that she will pick up Sarah's story in her next book."-- Paula Parker, BuddyHollywood.com, 5/12/12
"There is so much depth to HARVEST OF RUBIES that readers will happily drown in its message of God's unfailing love and mercy, while diving headfirst into the captivating plot and precarious romance. Characters are realistically flawed, likable and earthy. Emotions run the gamut from insecurity and fear to passion, pain and the indescribable joy that can only come with the realization of God's grace. This is a great read!" -- Susan Miura, BookReporter.com, 5/23/12
"I read Ms. Afshar's debut novel, Pearl in the Sand, last year and thoroughly enjoyed it. It was recently offered free on Kindle and, of course, I snagged it. In the course of a conversation on Facebook about it, I learned she had a new release. When I saw it on NetGalley, I grabbed the new one, excited to see if her sophomore offering was as good.
If anything, it was better! The story revolves around Sarah, a fictional cousin of the prophet Nehemiah. She's forced into an arranged marriage where her lack of social graces [think Mulan at the beginning of the movie - only worse] cause no end to problems. But, at the same time, the talents God has given her will prove to be most valuable to her husband and others. This is a romance, so it's little shock to find out that Sarah and her new husband, Darius, will grow to love each other." --Carol Moncado, Net Galley 5/30/12
"Harvest of Rubies is the second book by Tessa Afshar her first book was Pearl in the Sand the story of Rahab. In Harvest of Rubies Tessa tells the story of Sarah Nehemiah's cousin who unlike most women of the time can read and write and speak many languages. She becomes the main scribe to the queen. The story sort of reminded me of the Biblical story of Esther. That Sarah become the queen's scribe when the queen needed her most, because Sarah discovered a plot against the queen.
What I love about Tessa Afshar is that when she writes novel she remains as close to the Biblical record as possible. Ms. Afshar makes her characters come alive and allows the reader to be drawn into the story. Harvest of Rubies is a fiction read that will entertain you, but it will also encourage you. Tessa Afshar books in my opinion will encourage you to pick up your Bible to confirm that she stays true to the Biblical account as much as possible." --Carissa Miller, Net Galley 6/1/2012
"I felt so similar to Sarah as I read through this book.  Her fears, her insecurities, and her doubts have been similar to my own.  I feel as though I am going through a spiritual journey along with her as we both learn of our importance in the eyes of God.
Pearl of the Novel: It's a book that I must have a highlighter and pen on hand because there are so many amazing passages and I gain a lot of inspiration to jot down.  It is full of so much insight and spiritual passages.  It is insightful and helps me become a better person." --Kris Ellsworth, Net Galley 6/13/12 
"I simply love Tessa Afshar's novels!  When I read "Pearl in the Sand," I had to buy a paperback copy to add to my collection.  After reading "A Harvest of Rubies" on ebook, I have to also buy a paperback copy.  These are wonderful books that I would eagerly recommend everyone to have in their library.  They are wonderful expressions of people's own self-doubts that can be dissolved into peace when they turn their lives over to God. I felt so similar to Sarah as I read through this book.  Her fears, her insecurities, and her doubts have been similar to my own.  I feel as though I am going through a spiritual journey along with her as we both learn of our importance in the eyes of God." -- Anonymous, PearlsofGreatWorth.com, 6/20/12
"The author transports us to an ancient time for a story that will touch any woman today who ever has struggled with defining herself through her work and accomplishments. I loved the unusual perspective of Nehemiah (the cupbearer) from a relative's (cousin) point of view.  The writing is a cut above for the genre and Afshar incorporates well developed characters, history, humor, mystery and biblical truths to weave an interesting and encouraging tale with many lessons hidden just below the surface." -- Lauren Y., BookBargainsandPreviews.com
"I cracked open Tessa Afshar's book, Harvest of Rubies, after the kids were fast asleep, and I didn't put it down until I read the last page in the wee morning hours. It was well-written, gripping, and very inspirational.It even brought a few tears...I want to read it again with highlighter in hand. I don't want to forget anytime soon the lesson of the grapevine. How often do I hold onto the pruned branch, wanting that life back? I might find an image of a grapevine and frame it for my home. If you're wondering what I'm talking about, you'll have to read it for yourself. One element that I really enjoyed was that the heroine wasn't perfect. She struggles with things common to all of us. I'm sure that if I were to meet her today, she'd have uneven fingernails, a stain on her shirt, and she might have misplaced her glasses… a little like me. A little like all of us." -- BeckyE, 6/20/12
"Ms. Afshar has once again woven a vividly written, emotionally engaging story. Sarah's struggle to find acceptance through her accomplishments and her eventual realization that her worth doesn't depend on them is poignant. The main characters are all well developed and believable, with foibles and imperfections. Ms. Afshar has a talent for creating characters that you feel like you really know...down to even the loyal dog! The depiction of palace life in ancient Persia and the dynamics of various relationships: nobility, royalty, commoners, harems, and so forth, are well researched and realistic. The thread of intrigue is woven into the story seamlessly and doesn't at all feel like an added on plot device. It adds to the overall theme quite nicely. And even though the book delivers a serious message and delves into serious issues, there's plenty of humor too! There are scenes that are laugh out loud funny. Harvest of Rubies delivers romance, mystery, adventure, grace, and humor. It's endearing, entertaining, and funny while still delivering a worthy message. Highly recommended!" -- Kara, Home with Purpose, 6/28/12
"It's always fun to run across a new author. To borrow a sports analogy, sometimes, youjust have to take a chance that an unknown author will "hit it out of the park" and provide you with something you can't stop reading.
I'm so thankful that I took a chance on Tessa Afshar.
Afshar is an amazing storyteller. Her first book made me really dive into an "old" Bible story in a new way. Her second, well, it really makes you take a second look at where a person finds value. In all, I'm thrilled to have discovered a new author. I highly recommend her work - and will probably put them on my "re-read" list. On the scale of one to five, I give her books a solid four. They are enjoyable and easy to read - but will definitely leave you thinking. All in all, a great showing for a new-to-me author!" -- Kaylea Hutson, MyScrappyLife.com, 7/9/12
"What I loved so much about Harvest of Rubies was Sarah's journey.  Afshar seamlessly weaves Sarah's tale of personal growth into the setting of biblical times.  I felt like I was learning something about history and about the Scriptures as I was reading, but without feeling "preached to."  I loved watching Sarah grow and change.  I especially loved how she quotes the psalms of David for strength and guidance.So many times while reading, I thought, "Yes, this is exactly how I feel!"  I love that.  I felt like Afshar was really speaking to me personally.  I felt encouraged and lifted up after reading Harvest of Rubies.
Until I realized there was going to be a sequel, I was not totally thrilled with the ending.  There were certain things that were left unfinished, things I wanted to see finished.  But, I will have to wait until the next book for Sarah and Darius' story to be completed.  I can't wait to read more from Tessa Afshar.  I highly recommend Harvest of Rubies." -- Kelli, Idsoratherbereading.com, 7/14/12
"This was my first book to read by Tessa Afshar--I was amazed a