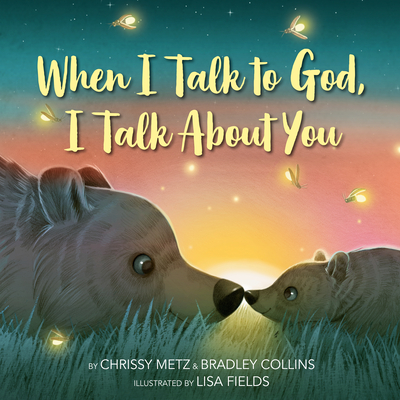 When I Talk to God, I Talk About You
Publication Date:
February 14th, 2023
Publisher:
Flamingo Books
Usually Ships in 1 to 5 Days
Description
A New York Times bestselling book!
"Gorgeous…Inspired by both of their grandparents and their guidance on prayer, the book is full of thoughtful details…Full of messages for parents, grandparents, or anyone reading." – Romper
From Chrissy Metz, star of the hit NBC television show This Is Us, and Bradley Collins comes a gorgeous, heartwarming picture book of faith, prayer, and the loving bond between parent and child.
When I talk to God, guess what I do?
It's really quite simple: I talk about you.

From bears and otters to rabbits and raccoons, these animals describe the many things they pray to God for as their little ones grow right before their eyes. With stunning illustrations from Lisa Fields, this is a touching ode to unconditional love and the perfect book to help introduce little ones to prayer.
Perfect for fans of Matthew Paul Turner's When God Made You, Rachel Held Evans's What Is God Like?, Lisa Tawn Bergren & Laura J. Bryant's God Gave Us You, Ainsley Earhardt's I'm So Glad You Were Born, and Joanna Gaines's The World Needs Who You Were Made to Be. Perfect for Easter baskets and year round!
Praise for When I Talk to God, I Talk Aboout You:
"Serene." – Yahoo! Life
 
"Sweet." – People Magazine
"Sweet and affirming...[with] gentle artwork." – Kirkus
"The rhyming text and delicate illustrations make this a perfect book for parents to share with their little ones about unconditional love...This heartwarming book is an ode to faith, family, and the loving bond between parent and child." – Kidsbookshelf.com
"Heart-warming…[with] sweet illustrations…[A] treasure for my family. I love to read it to my little ones, to help them understand how much I love and pray for them, too." – KidsR.Us
Praise for When I Talk to God, I Talk About You
"Sweet and affirming...[with] gentle artwork." – Kirkus
  
"Chrissy Metz puts her faith front and center in this sweet tale that makes for the perfect bedtime story. Send littles off to sleep knowing they are safe and loved." – Asheville Citizen Times 
  
"I look forward to reading this to my seven-year-old…It's full of colorful illustrations and a great message…I really enjoyed it." – Crosswalk 
 
"The rhyming text and delicate illustrations make this a perfect book for parents to share with their little ones about unconditional love...This heartwarming book is an ode to faith, family, and the loving bond between parent and child." – Kidsbookshelf.com 
  
"[A] gorgeous picture book with a life lesson about faith, prayer, and bonding between parent and child…Adorable…Beautifully illustrated…[A] special choice for bonding with your own children…This sweet story also makes a great bedtime story." – HubPages 
  
"Heart-warming…[with] sweet illustrations…[A] treasure for my family. I love to read it to my little ones, to help them understand how much I love and pray for them, too." – KidsR.Us